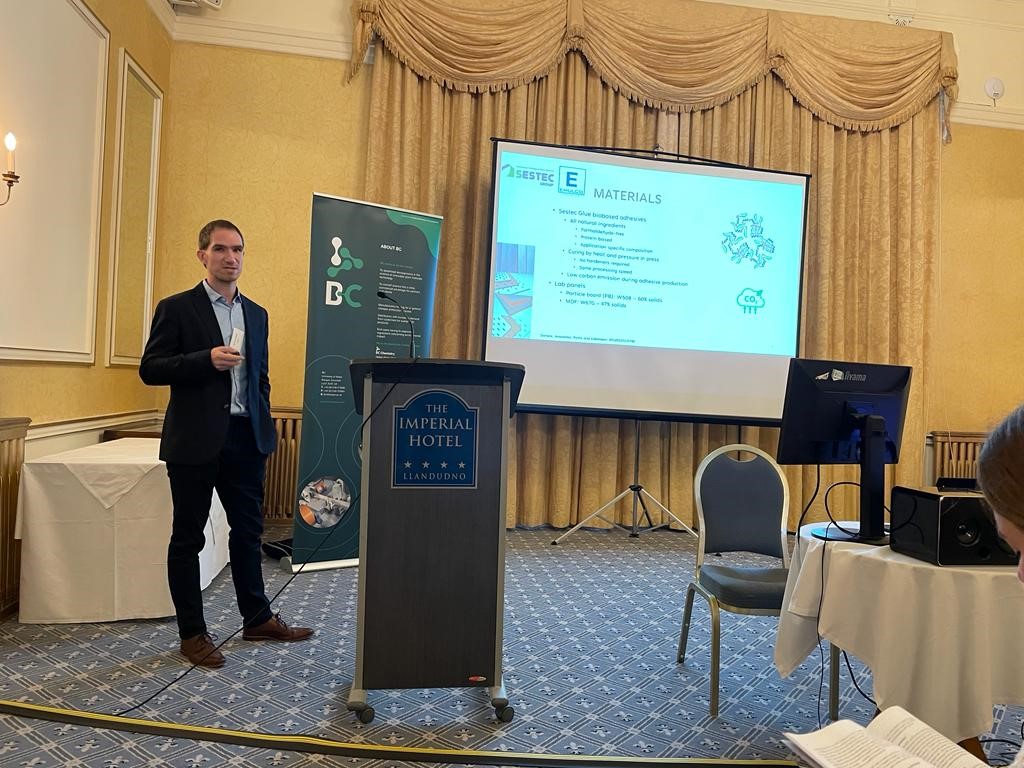 12/10/2023 – Ghent, Belgium: Emulco NV announced the introduction of its AquaVeg bio-emulsion into the panel board industry. The emulsion specialist succeeded in combining its AquaVeg water-based bio-emulsion with formaldehyde free bio-based binders to produce zero-emission panel boards. Recently, Emulco and the bio-based adhesives producer Sestec, showcased the zero-emission panels at the industry leading International Panel Products Symposium (IPPS), organized by the BioComposites Center of Bangor University (UK).
Both Medium Density Fiberboard (MDF) and Particle Board (PB) panels treated with Emulco's and Sestec's products passed lab and production tests with flying colors. Particleboards and MDF boards treated with the bio-based solution reached comparable or even better scores to panels treated with mineral wax emulsions in terms of internal bond strength (IB), modulus of rupture (MOR) and water resistance. All panels produced with AquaVeg emulsion have demonstrated equal or better performances in thickness swelling and water absorption compared to mineral wax emulsions. Since neither the bio-based adhesive nor AquaVeg emulsion contain formaldehyde, the only remaining formaldehyde emissions are the ones produced by the wood itself.
Emulco's AquaVeg is a family of water-based emulsions made from vegetable waxes. They are a sustainable alternative for mineral wax emulsions, because they are bio-degradable and with zero VOC emissions.
Now that lab and industry tests are finalized, Emulco has started the commercialization of its emulsion towards environmentally conscious producers of wood panels in order to bring the new environmentally friendly panels to the market. Several negotiations are currently ongoing, which means that the zero-emission wood panels might be available on the market in the mid-long term. Construction companies and developers in the ever growing segment of eco-buildings and the health infrastructure sector are natural partners for the use of the new bio-based panels.
Besides traditional panel board products, Emulco's AquaVeg emulsions have also been successfully introduced as a top coating for LVL (Laminated Veneer Lumber) and CLT (Cross Laminated Timber) and other construction materials.
"The possibility to treat MDF and PB boards with a formaldehyde-free combination of our AquaVeg bio-emulsions and bio binders is a great accomplishment of Emulco's and Sestec's R&D capabilities," said Jean Vanhoebost, CEO of Emulco. "The market opportunities are huge, because eco-building is quickly becoming a leading trend in the construction sector. We are proud to contribute to a more sustainable wood and construction sector."
About Emulco
Emulco is "The Emulsion Company", specialized in high-end -and complex emulsions such as EPDM, PIB and bio-emulsions for the wood, food packaging, construction, cosmetics, chemical and textile industries. Headquartered in Ghent, Belgium, Emulco can serve and assist customers all over the world. With its deep knowledge & know-how as THE emulsion specialist, it offers innovative and sustainable products to its customers. Emulco strives to co-create a more sustainable world, protecting the earth by the way people live, eat, care and dress.
Contact information:
Jochem Binst :
+32471202679